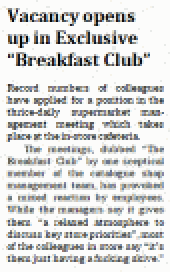 "Vacancy Opens Up In Exclusive Breakfast Club"
From "The Slander" (June 1997)
---
Record numbers of colleagues have applied for a position in the thrice-daily management meeting which takes place at the in-store cafeteria.
The meetings, dubbed "The Breakfast Club" by one sceptical member of the team, has provoked a mixed reaction by employees. While the managers say it gives them "a relaxed atmosphere to discuss key store priorities", most of the colleagues in store say "it's them just having a fucking skive."

Back to the filing cabinet