Coffee Conspiracies




May 27th Update
Man Discovers the Shocking Truth Behind Lockdown Lunacy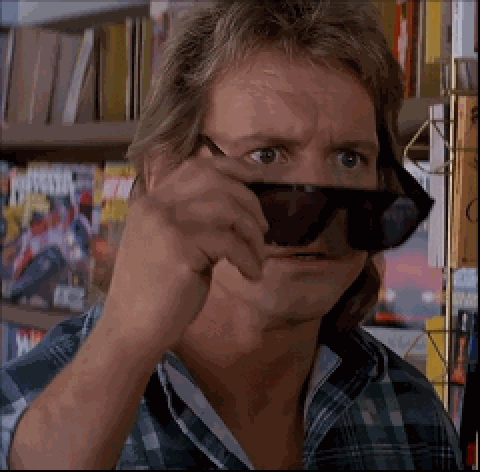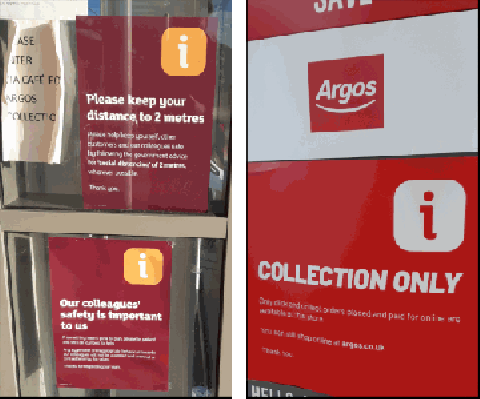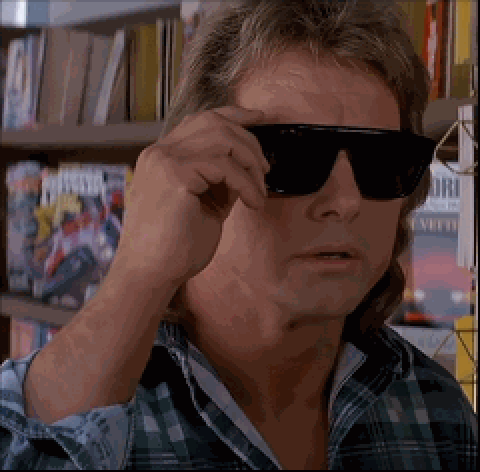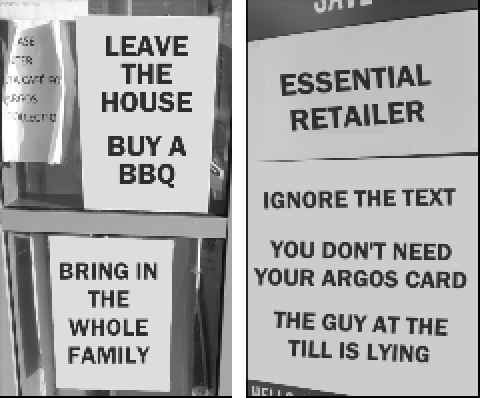 For months, retail workers across the country have asked why the public continue to leave the safety of their homes for trivial things. The signage in supermarkets appears clear and crisp yet seems to have no effect on customer's selfish behaviour.
As always, we can now reveal why this is happening, along with a horrifying conspiracy that will blow the lid on why a catalogue shop stayed open during the lockdown.
Warehouse worker Rod said "I was going through the old lost propery box. Found the usual stuff: a single glove, couple of wean's toys, a brolly, car keys, walking stick, death threats... and then I saw a pair of sunglasses. So I go and try them on, and that's when I saw it."
Naked to the eye, the sunglasses reveal that all signs are in fact ENCOURAGING their customers to come out and shop! They thought we wouldn't notice!
When questioned on the presence of subliminal messaging, a member of the supermarket's management team refuted the claims as "unsubstantiated and ridiculous" before marching away and muttering in to his radio "he knows".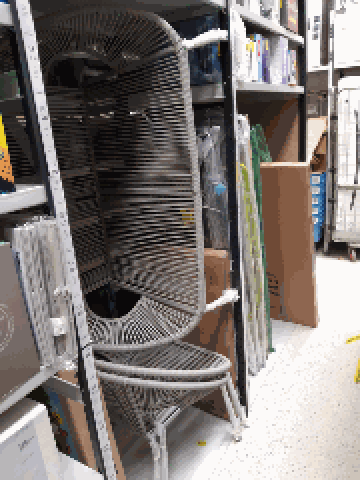 Work of Art Discovered in Stockroom; Turns Out It's Just Bad Binning
A shop has saw larger queues than normal and it's all thanks to a controversial new feature discovered in its stockroom.

A patio set was found stacked haphazardly in a bay usually reserved for much taller stock.

One art critic described it as "a sculpture that challenges the established norms of stockroom binning" while another said it was "a contemporary criticism on both the physical and mental burden carried by the frontline workers during the pandemic."

A colleague raised his safety concerns to on-again-off-again health and safety champion Jonathan Jo-Jo Junior Shabadoo Sport, who said the "configuration did not contravene Chapter 6, Section 8.2 of the handbook, which states that if there is less than a two finger gap between the stock and the shelf above it, then it's good binning."

In a further alarming plot twist, Jon revealed he himself was responsible for the dubious binning which has divided an already jaded and disheartened stock team.

Jackie is the bookie's favourite to be injured, though there are some who hope that karma will strike, and it will be Jon on the receiving end of an accident form.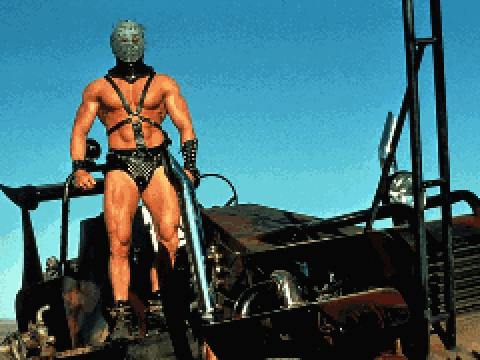 "Two Customers Only" Policy Mistaken for "Two Men Enter, One Man Leaves" Thunderdome Rules
It is no secret that tempers have been high in a catalogue shop recently, with many colleagues being subjected to absolutely unacceptable abuse. However, it appears the reason for unprovoked aggression is through a misunderstanding of the store's "only two customers at once" policy.

One muscular, half-naked masked road warrior arrived at the store, only to discover the rule was due to social distancing, and not because it is a battle to the death.

"I am gravely disappointed," Lord Humungus said, before remembering "hold on, one of my dogs of war wants me to pick something up while I'm here."

The Ayatollah of Rock 'n' Rolla then proceeded to give his order number to the colleague at the till, who asked him if he had his store card with him.

When he said he didn't, and the lassie reminded him that it said on the text message he had to bring it with him, Mr Humungus snapped in to a rage, retrieved his machete and shouted "I'm gonna kill you, you puppy!"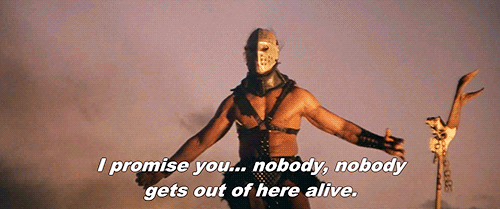 New Queue is a Disaster
The baffling decision to have a 25% clothing sale during a pandemic, which has resulted in half the city descending upon a supermarket, has required a reshuffle of the queue layout.

The cafe situated inside the building, which is currently closed to the general public, has found a second life as an elaborate queue system to keep the catalogue shop's horde of customers at bay.

The queue, which snakes back and forth at least eight times around an obstacle course of chairs, tables and condiment trolleys, has been called "a social distancing nightmare", "a cattle pen" and "the supermarket's secret shame".

One customer, who waited almost three hours in the queue, was confused when he walked up to the colleague at the front of the shop and was asked for his 'collection code'.

"Collection code?" Asked the gentleman, who looked up at the sign. "Isn't this the queue for the King Kong ride?"

Website Views!!


Contact Me












This site is best viewed with:

Download now!
Site design by S. W. Argyle © 1998