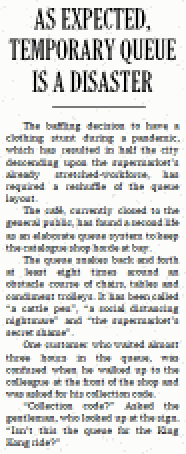 "As Expected, Temporary Queue is a Disaster"
From "The Brunch" (May 1998)
---
The decision to have a clothing stunt during a pandemic, which has resulted in half the city descending upon a clothing store's already stretched-workforce, has required a reshuffle of the queue layout.
Hungry Homer's Café, currently closed to the general public, has found a second life as an elaborate queue system to keep the horde at bay.
The queue snakes back and forth at least eight times around an obstacle course of chairs, tables and condiment trolleys. It has been called "a cattle pen", "a social distancing nightmare" and "the store's secret shame".
One customer who waited almost three hours in the queue, was confused when he walked up to the colleague at the front of the homeware section and was asked for his collection code.
"Collection code?" Asked the gentleman, who looked up at the sign. "Isn't this the queue for the King Kong ride?"

Back to the filing cabinet