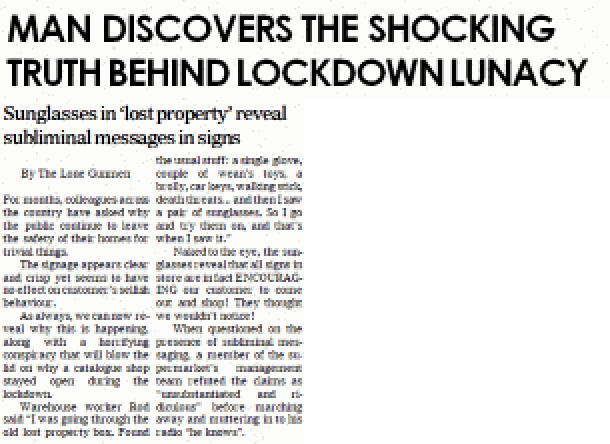 "Man Discovers the Shocking Truth Behind Lockdown Lunacy"
From "The Brunch" (May 1998)
---
For months, retail workers across the country have asked why the public continue to leave the safety of their homes for trivial things.
The signage in stores appears clear and crisp yet seems to have no effect on customer's selfish behaviour.
As always, we can now reveal why this is happening, along with the horrifying conspiracy that will blow the lid on why a catalogue shop stayed open during the lockdown.
Warehouse worker Rod said "I was going through the old lost propery box. Found the usual stuff: a single glove, couple of wean's toys, a brolly, car keys, walking stick, death threats... and then I saw a pair of sunglasses. So I go and try them on, and that's when I saw it."
Naked to the eye, the sunglasses reveal that all signs in store are in fact ENCOURAGING our customers to come out and shop! They thought we wouldn't notice!
When questioned on the presence of subliminal messaging, a representitive of Ned's Non-Essentials refuted the claims as "unsubstantiated and ridiculous" before marching away and muttering in to his radio "he knows".

Back to the filing cabinet