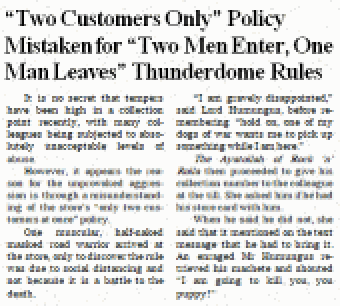 "Two Customers Only" Policy Mistaken for 'Two Men Enter, One Man Leaves' Thunderdome Rules"
From "The Brunch" (May 1998)
---
The last few months have been tough for retail workers across the country, with some customers subjecting them to absolutely unacceptable abuse. One shop has discovered that the reason for unprovoked aggression is through a misunderstanding of the store's "only two customers in at once" policy.
One muscular, half-naked masked road warrior arrived at the store, only to discover the rule was due to social distancing and not because it is a battle to the death.
"I am gravely disappointed," Lord Humungus said, before remembering "hold on, one of my dogs of war wants me to pick up something while I am here."
The Ayatollah of Rock 'n' Rolla then proceeded to give his collection number to the colleague at the till, who asked him if he had his store card with him.
When he said he did not, and she pointed out that it mentioned very clearly on the text message that he had to bring it with him, Mr. Humungus snapped in to a rage. Refusing to leave the store, he retrieved his machete and shouted "I'm gonna kill you, you puppy!"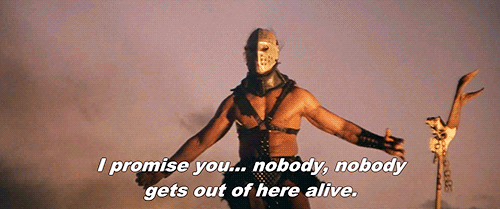 Back to the filing cabinet